Crossbow Education
works to help people with Dyslexia and other reading challenges. They sent us a package of their
Eye Level Reading Rulers
, which comes as a ten-pack of colours to try for $16.95. We received: yellow, grass, celery, aqua, jade, magenta, sky, purple, orange, and pink. They each have one glossy side and one matte side.
According to the website,
"Visual Stress sufferers find that Eye Level Reading Rulers reduce page glare, "dancing" and blurring text and other symptoms, while also providing valuable tracking support for reading."
As you may know if you read this blog regularly. M, my 12 year old daughter is dyslexic/dysgraphic and also has some vision problems, so we were eager to put these to the test. I also wondered whether it would help D, my 5 year old new and enthusiastic reader, to track what he was reading.
M took a book that she had difficulty seeing properly, and tried each ruler out on it.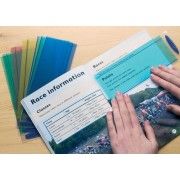 She was amazed to find that with the yellow and orange rulers, she saw so much better that she didn't even need her glasses! I was skeptical until she effortlessly read the words
without transposing a single letter, and without holding it two inches from her face.
SOLD! I don't need to know why this works, but we're both thrilled that it does.
The rulers have a wider window to read a paragraph, and a narrower window to isolate a single line. M was fine with the paragraph size, and has spirited a ruler up to her room for late-night reading because previously she has tended to fall asleep with her glasses on mid-chapter. The other ruler she has in the computer room.
For D, my new reader, the aqua and purple single-line rulers seemed to help him to read the words more easily, although he couldn't verbalize exactly how they helped. My guess is the combination of a softer view with the tint, and only one line to look at at once.
Now I was really curious, because I have the attention span of a fruit fly and wondered if these would help me in any way. Well, yes and no. I found isolating a paragraph was helpful, but no one colour specifically helped with this. Either way, I'm keeping a couple as bookmarks for when I'm reading for work and not pleasure.
If you think that these might be useful to you, or someone in your family, the best way to test it is to order the multi-pack like I received, and then just order a pack of only the colour that works for you afterwards.
Crossbow also sells
full page overlays
to help with visual stress, and something that I will be ordering for every member of my family, a
Virtual overlay for Windows
or
Mac
, as well as many other products.
To see what other on the Crew thought of the Eye Level Reading Rulers, click the banner below.
Disclaimer: I received the product free for the purpose of this review. I'm not required to write a positive review, but this product has solved a big challenge for my daughter and I am delighted to do so in the hopes that it may help someone else.