Nature study can seem overwhelming, especially if you don't know how to make and keep a nature journal.  Or those of you who don't see the point of it. Or people who, like me, (used to) think they can't draw at all. Or maybe you love keeping a nature journal but would like some inspiration. It's all good.
We have experienced the joy of nature journaling and nature study since my oldest child was little, and it has been a constant in our lives no matter what else was going on or how our learning changed through different years, needs, and students. Nature study, I am firmly convinced, is for every single type of family and learner.
I've compiled this ultimate list of nature journaling help from my own favorites, both inspirational and practical. They're divided loosely into categories to help you out, but you're really missing out on some great stuff if you stick with just one.
Read, pin, and enjoy all these great links for an easy nature study approach!
Why Do it?
Why Nature Journals are Important from Our Journey Westward – if you don't know already, Cindy is one of the undisputed royalty of nature study! You need to read this post!
Family Style Schooling shared how and why she uses nature journals with her kids for fun learning.
Faithful With the Little wrote a great post about why she loves nature study as a learning tool.
Hide The Chocolate shared why they use nature journaling, and what they take along in a backpack.
Blogs with Great Examples of Nature Journaling and/or tutorials
Keeping a Nature Journal: Getting Started in 5 Exercises from Eva Varga
John James Audubon Nature Notebooking and Bird Study from Harrington Harmonies
Adventures in Mommydom has done many nature studies over the years, and you'll want to spend time looking through them for examples of journals and creative nature exploration.
Ok, not actually on her blog (which is also great) but Very Mom's Flickr feed of "Nature-ing" has some fantastic examples from nature journals  from kids of various ages
Starts At Eight had two posts that I thought were wonderful examples of real-life nature journal pages and activities: Robins nature study and Daffodils nature study.
Amy's Wandering has a great post on creating a nature journal.
The amazing Barb McCoy from the Handbook of Nature Study blog has this article about Nature Journal Pages & Tips on HubPages – a must-read! I think most people would agree that Barb's the Queen Of All Things Nature Study. 🙂
Joy in the Home explains how to get your kids to enjoy nature journal.
I have a post with 10 books to inspire your nature journaling.
The Homeschool Scientist has The Minimalist's Guide to Nature Journals and free nature observation printables.
How to Start a Nature Journal from Education Possible
Eva Varga has a post on Keeping a nature journal: Getting started in 5 exercises.
How to Make a Nature Journal For Kids from Premeditated Leftovers
Create Your Own Nature Journal (with 20+ more free printables she's found!) from K C Edventures
Blog She Wrote shows you how to make a plant journal.
Nature Journal Printables
Free Nature in Your Notebook Winter Printables from Our Journey Westward
Ant Activities and Ant Nature Journal from Spell Out Loud
Free bird journal from New Bee Homeschooler
Easy Nature Journals for Kids from Simply Rachel
Nature Journal Specimen Pages (with photo pockets) from Donna Young – these have been so useful to us for about a decade now! Also, scroll down the page for more specific ones for things such as flowers, birds and leaves.
Nature Journal Tabs from Donna Young
This Free Bird Journal is one of literally hundreds of free treasures you'll find at NewBee Homeschooler and their sister site, Dynamic 2 Moms.
Nature planning pages from Jimmie's Collage help you plan your nature journal and nature studies.
NotebookingPages.com has a massive set of more than 300 nature journal pages all ready for you to download and print, on every conceivable nature study topic you might want.
Homeschool Share has a big list of free printable nature journal pages from age 2 and well upwards.
Lara Moletierre has a printable nature journal for the elementary aged kids, lined and divided by season and topic. It's thorough and oh so cute (NOT cutesy, but so appealing!)
Ben and Me offers a free printable nature journal.
YouTube videos and tutorials
Why you should have a nature journal
A Watercolor dry brushing tutorial
Every single video on John Muir Laws' channel! There are so many great videos to watch that I can't suggest just one…..set aside time to enjoy these weekly, maybe!
Nature curricula to make your life easier, and all between $0 and  $20.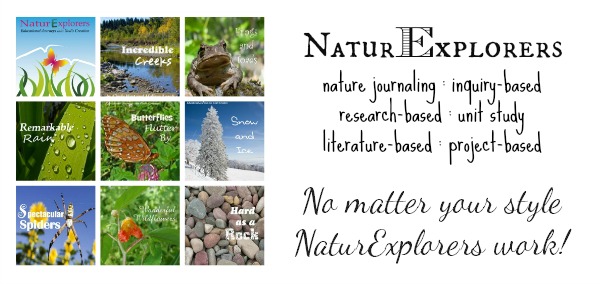 Shining Dawn Books offers entire NaturExplorers unit studies for multiple ages, complete with printable nature journaling pages. We've done a lot of these, sometimes more than once. 🙂 We have enjoyed them all!
Trickle Creek Books has EcoPrints: A Complete Kit for Writing About Nature and Eco Journals by season, designed to help your child build a nature journal full of explorations that they will be super proud of and want to look back on time and time again. They also have specific nature journal topics such as insects, rainforests, and more with loads of exploration as well as journaling.
My Little Poppies has a year-long nature study curriculum called Exploring Nature With Children. I haven't used it myself, but I have several friends who use and love it.
John Muir Laws has a free nature journaling course offered through The California Nature Plant Society.
The Farmschooling curriculum I wrote with Erin Vincent offers daily nature journaling and lots of ideas, because you should be able to do nature study and observation whatever nature you're observing 🙂 In our case it's a lot of tiny kids and lambs lately!
The U.S. Fish and Wildlife Service teamed up with the Prairie Wetlands Center to create this free nature journal teacher's guide to the area.


I've mentioned it before because we love it and use it regularly: The Private Eye curriculum combines increasingly close up observation, nature journaling, and scientific exploration in one amazing, easy to implement book. All you need is a jeweler's loupe or two and you're ready to head out. The connections I've seen kids make between scientific ideas are incredible.
Supplies You'll Love
I have found it to be true over the years that you should buy the best quality materials you can afford for nature journaling. The good materials last longer, have better pigments, and blend better. The best paper allows all sorts of artistic expression without leaking through to the other side. They are an investment but a lot of them last for years, unlike the back-to-school-specials kind of drawing and writing materials I bought a couple of times. Here are the ones we like the best and use all the time ourselves.
I'm a proud member of iHomeschool Network, and we've put together a great big collection of Ultimate Guides to help you through your days as parents and as homeschoolers! Click on the picture below to see all the posts.
Save
Save